About
Outdoor events are where we really come into our own at Aura. We love nothing more than being outside.
With our stock of outdoor stage roof systems perfect for festivals and concerts, along with our rider friendly sound and lighting equipment, we really are single source solution for your outdoor event.
Festival Stages
We stock a range of stage sizes including Prolyte Arc Roof systems and an inflatable roof system. Combined with our stocks of Prolyte Litedeck modular staging, we can build a stage suitable for virtually any event. We can also supply rolling risers, ramps and other structures using our modular decking so we really can fulfil all your staging requirements. Solid, reliable and a centrepiece for the production - what more can you ask!
Concert Sound
We use sound systems from d&b Audiotechnik - well regarded as some of the best available. Utilising a combination of both traditional point source speaker systems and line array systems, we can ensure that the sound for your event is clear, even and provides the impact you want. It's not all about speakers of course, what goes in must come out! Our microphone stock consists of industry standard Shure, Sennheiser, AKG and Beyerdynamic microphones to cover every eventuality with crisp clarity. We also stock a range of digital mixing consoles from Yamaha and Allen & Heath which allow all the hard work to be done by the engineer. We pride ourselves on the quality of sound we supply, and you'll soon see why.
Stage and Site Lighting
Lighting really helps create an event. Apart from allowing the audience to see the stage, a good lighting rig including moving heads, strobes and LED fixtures really sets the atmosphere alight. We stock all these items and more and using experienced and dedicated lighting engineers, your event will look as good as it sounds.
We can also take care of site lighting, either purely for practical reasons or for visual pleasure - giving your site the wow factor.
Backline
For any band focused event, backline is a necessity. If the band aren't bringing their own, where do you get it from? Us!
We stock drum kits, guitar amps and bass amps and can also supply specific items if required as part of our full technical event production service. Just let us know what you need, and we'll do the rest.
Company Information
Office / Warehouse Address:
Unit 7, Hillborough Business Park
Sweechbridge Road
Herne Bay
Kent
CT6 6TE
Phone:
01227 63 80 85
Fax:
01227 80 75 60
Aura ♥'s Events
At Aura, there's one thing we love - well produced events.
Apart from the entertainment, the biggest thing that can make an event a success is the technical event production. Imagine an awards dinner under fluorescent strip lights or a festival with a sound system that only covers ¾ of the audience - memorable, but for all the wrong reasons. Just like you, we want your event to be memorable for the right reasons. For lighting that creates the ideal mood for the event type or for crystal clear sound across the whole audience.
Utilising our extensive stock of equipment covering all technical event production disciplines, we can make this happen - and you have the comfort of one point of contact. Not only does this make life easy for you, but it means the technical production is streamlined with no issues arising between departments.
So, what can we do?
Our hire stock covers sound, lighting, staging, AV, backline and power. We can also take care of production management, set, video walls and various other aspects of your event. Our aim is to take as much as you want off your workload, so you can concentrate on the core event details.
We use an array of experienced event production crew and engineers to ensure that we deliver on our promises. It's your event, and everything should be how you want it. Need all staff dressed in evening attire for your gala dinner - no problem. The only way your event can be how you want it, is if the production company are flexible to your requirements - and at Aura, we are!
When was Aura born?
Aura started life back in 2008 as RKDO Sound & Light, providing sound and lighting equipment for events. Shortly after being established and to keep up with customer requirements, staging was added to stock. From there, the range of services has kept growing in order to provide customers a first class service - whatever event they are organising. In 2013, a change in part of the management, coupled with the expanding services offered, left little relevance to the name, and so it was decided to re-brand with a fresh and relevant name - Aura Event Services.
Where do we work?
Aura is based in Herne Bay, Kent, a short drive from London. Naturally, this means the majority of our production and hire work is in Kent and London along with the surrounding areas of Essex and Sussex. We can and often have worked a lot further afield though, including all over the UK and also in Europe.
The centrepiece of any performance - the stage. It has to look good, be stable and be safe. Utilising some of the best equipment in the live events industry, we achieve all three on every stage we build.
Stage Roof Systems
When organising an outdoor event, you don't want to take a chance on the weather. The stage roof not only keeps the performers and equipment on the stage dry but it also offers some protection from the wind and shade from sunlight. Depending on the roof design, it can also facilitate flying for lighting and associated equipment, negating the need for additional grid systems to be installed.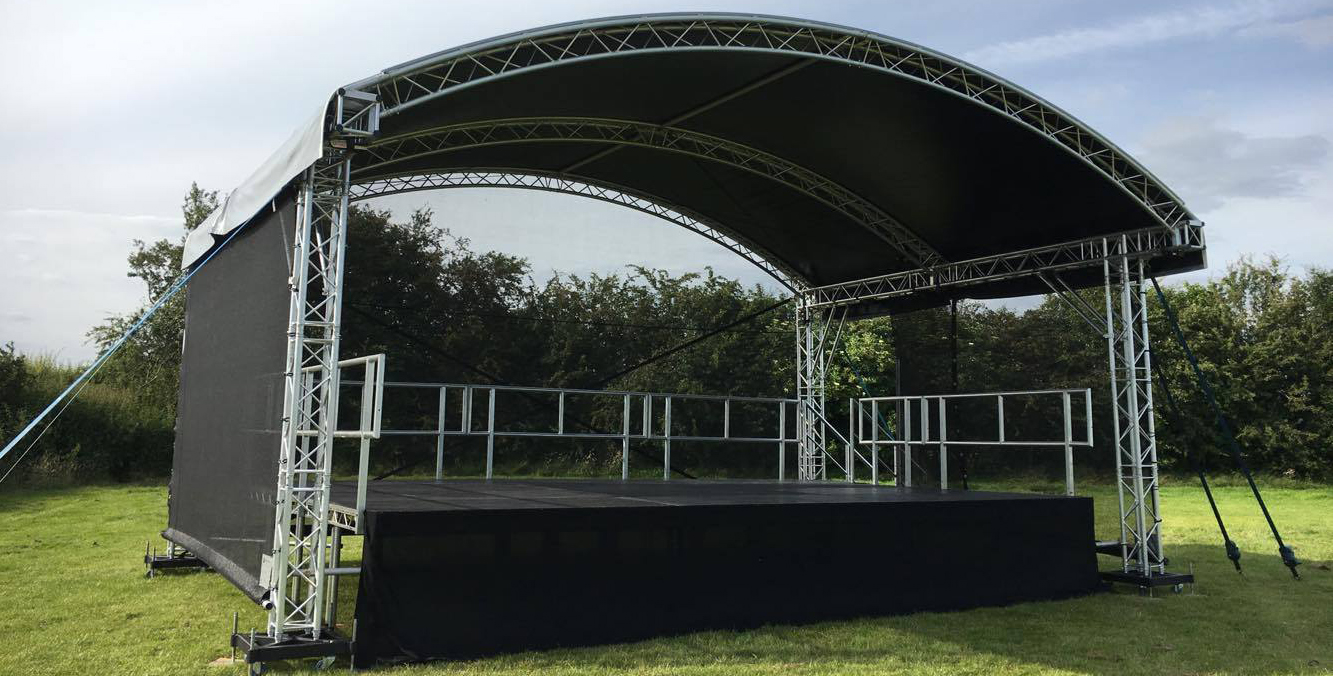 At Aura, we stock a range of options for stage roof systems to meet the size requirements of the event. The smallest stages for community events or similar can be catered for using pop up gazebos which is a budget concious solution. These are available in 3m x 3m or 4.5m x 3m.
For medium size events, we offer the Prolyte Arc Roof system, available in 6m x 4m and 8m x 6m sizes. These are perfect for small-medium music festivals where the overall aesthetics are key and where it is likely that lighting will need to be flown above the stage.
For larger scale events, or where a large stage space is needed, we stock a 15m x 7.5m inflatable roof.
Stage Decking
Either as a stand alone stage or in conjunction with a stage roof, Litedeck modular staging enables virtually any size platform to be constructed with relative ease. It can be built on level, sloping or uneven ground, so regardless of the space you have to work with, we can build a stage platform for your event. As well as a traditional stage, we can build catwalks, tiered seating, viewing/VIP platforms, access ramps and much more, all with one system.
Safety
As with any temporary demountable structure, safety is paramount. All our systems are used in line with the manufacturers guidance and structural calculations can be provided where applicable. As with all our work, detailed risk assessments and method statements can be supplied along with signing off paperwork for all structures we build.